Our company is also installing WIM systems for preselection vehicle weighing in motion. They based on ceramic piezoeletric sensors and they meet requirements of COST 323 B +(7) accuracy.
Main functions:
– weighing overload vehicles
– detecting axle amount
– measuring weight on every axle
– classification of vehicle, which meets requirements of COST 323
– detecting too height vehicles
– easy implementation of devices from other manufacturers, ex.: cameras, sensors
Our systems are provided, due to how many lanes are in control, with the digital ANPR camera, analyzing two lane at the same time. Thanks to this solution, cost are lower and installation is easier and faster. Cameras work with LED IR lamps and thanks to this, system can work whole day and night.
1. The ITS RLC device is design to control and register dangerous situations in traffic and also driver who does not follow road signs and traffic lights.
This device perform the following functions:
a/ catches vehicles which pass by crossings while there is a red light on
b/ analyzes vehicles license plates, the ANPR (Automatic-Number-Plate-recognition)
c/ analyzes wanted vehicles, the black list
d/ records vehicles making inappropriate maneuvers (reverse in places where it is not allowed, driving the wrong way)
Photo 1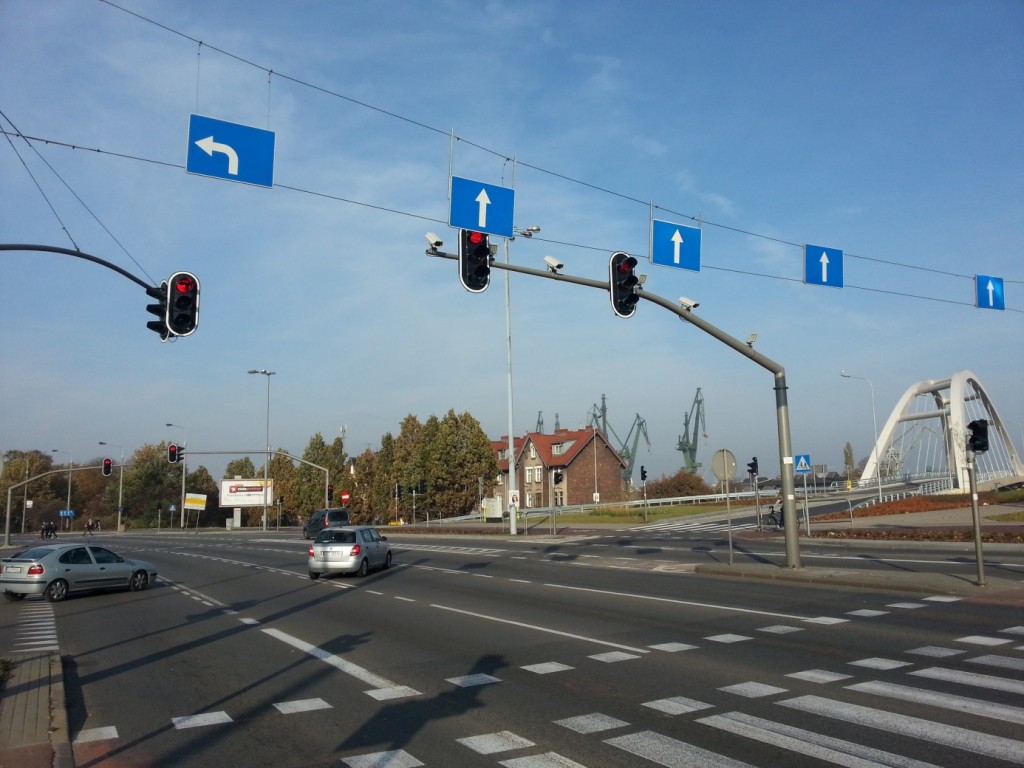 Photo 2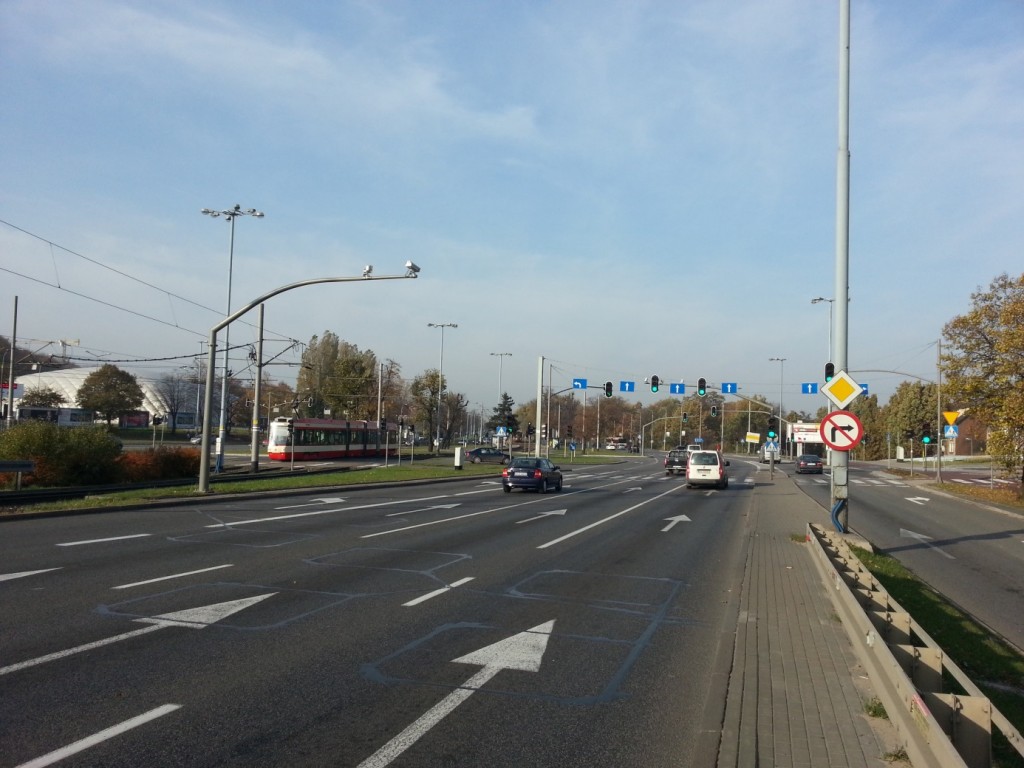 Devices operation is based on induction loops or by video detection.
Vehicle registration is made by digital, high definition cameras set up on arms or gantries which makes photos from the front of vehicle (example of such gantries with cameras making photos from the front – photo nr. 1) and from behind (example of such gantries with cameras making photos from behind – photo nr. 2), in case if the vehicle pass the crossing on red light, there will be also the traffic light on the photo (photo from behind).
2. ITS RLL device which is used to measure, control and register speed of vehicles.

Our device uses induction loops for measure instantaneous vehicles velocity.
Records of vehicles are made by digital, high definition cameras, which are supported by LED lamps emitting infrared radiation.
Photos recorded by cameras are sent by wireless techniques or by fiber.
Cameras used in our device also have ANPR function and vehicle classification. Beneath on photos 3 and 4 you can see examples of devices set up on arm and on gantries.
Photo 3
Photo 4
ITS RLL device does have the type approval decision issued by Central Office of Measures in Warsaw, which allows to get for every device, which will be set up by our company, legalization certificate.
Beneath there is copy of first page of type approval.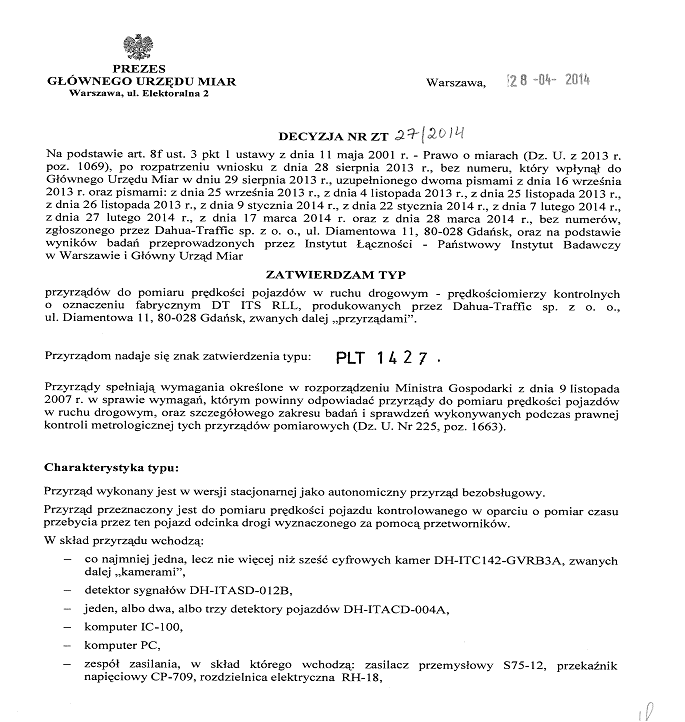 We develop cooperation with local authorities which uses automatic devices for traffic control and capture records of some offences made by vehicles. Using specialized software, we are creating local offices, where we recruit employees who help with office work municipal police to prepare supportive documentation for ticketing and fines documentation.
Our employees deal with technical help in attendance of computer systems which work with control and measurement devices serving for speed measurement and red light offences. Besides this, they make all office and auxiliary work while preparing fine and ticket documentation by municipal police officers. Our employees also make every kind of service job of control devices.
Range of our services.
1. Our company install control and measurement devices which beside of speed control can simultaneously register vehicles which pass by crossings or pedestrian crossing while there is red light on.
2. On our cost we organize local offices which are located near or in municipal police headquarters There we create computer workstations, train and recruit people from local labor market.
3. Employees who work in local offices make all office work, related with creating supportive documentation for fine and ticket documentation, of course without those which are proprietary only for municipal police officers.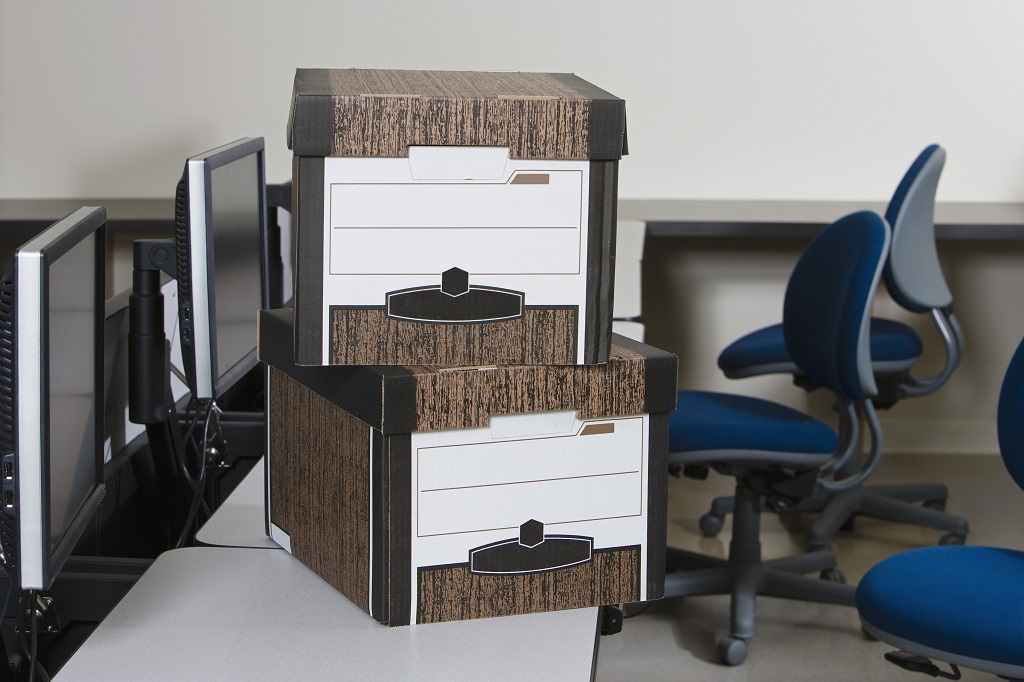 4. Implementing solutions, which are propose by DUORS, local authorities which cooperate with us, without investing any own founds, can reach noticeable effects in traffic safety on roads which are in their area.
5. Settlement of the company are documentations, which are prepared by our employees in local offices and which lead to effective enforcement fines from the offenders.
6. Thanks to organizing local office and employed workers who support municipal police officers, officers can spend more time for realizing their statutory objectives in the range of ensuring law and enforcement in commune.
7. During realization our contracts we cooperate with specialized Law Company, which ensure the comprehensive service for municipal police officers. It guarantees professional help in any legal or law issues related with municipal police work in the context of our offered road and traffic safety systems.